Panasonic will show off a couple of unique prototype TVs on display at this year's Internationale Funkausstellung Berlin exhibition, which kicks off on September 9.
The prototypes include its first latest transparent OLED screen, and a monitor concept that uses two LCD panels to deliver black levels and brightness approaching that of OLED quality.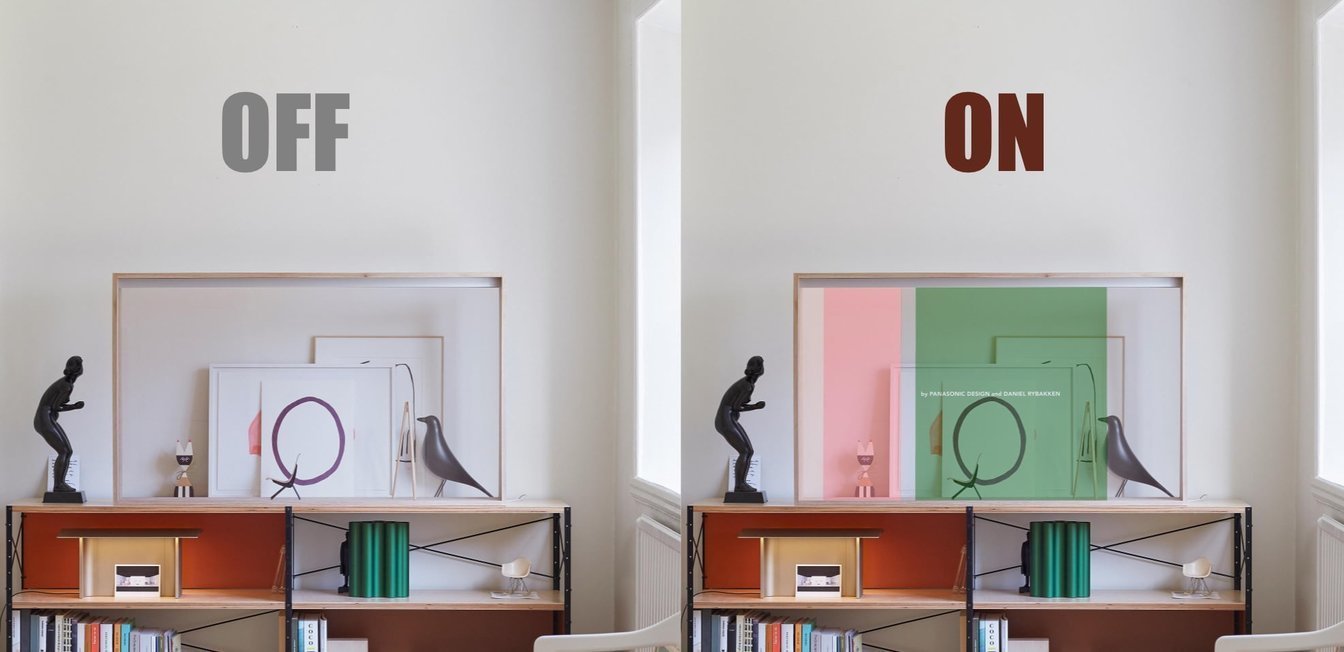 Panasonic actually showed off its latest transparent OLED concept at the Salone del Mobile design conference in Milan last April, and now IFA 2019 attendees are getting a second look. The stylish display looks more like a glass cabinet than a TV, with the what appears to be a simple, transparent sheet of glass at the front. That's until it's switched on anyway, when it immediately transforms into a vivid OLED display. 
The TV is the result of a collaboration between Panasonic and the Swiss furniture company Vitra, designed so that it can easily blend into its surroundings. All of the technology components are carefully housed within the TVs wooden frame, which doubles as the stand, giving it that innocuous appearance when not in use.
"The transparent OLED display converts from a passive object into a lively and dynamic element, from something meant to be seen into something meant to be watched," the companies said in their pitch.
This isn't the first concept of a transparent OLED display, but previous models we've seen have not been up to the same standards as regular OLED displays, due to poor contrast and the colours can appear desaturated in bright environments. Until we get a closer look we can't say if Panasonic's transparent OLED is any better, certainly the general idea of transparent displays is well worth pursuing as a new luxury feature.
As for the dual-panel LCD monitor, codenamed "MegaCon", this is made up of a high performance 4K outer panel, combined with a monochrome inner panel for modulating the direct LED backlight. Panasonic claims the combination enables pixel-level dimming and a contrast ratio of 1,000,000:1, something that's impossible with a single LCD panel.
Panasonic says MegaCon has been "tested exhaustively" by Hollywood studios and post production houses, and is able to deliver a level of colour accuracy that's equivalent to a professional-grade mastering monitor.
Filmmaker Mode
In a separate announcement ahead of IFA, Panasonic revealed that a select number of its 2019 TVs will support the UHD Alliance's newly announced "Filmmaker mode" from early next year. 
The idea behind Filmmaker Mode is to help consumers accurately recreate cinematic content as close to the original as possible by replicating the settings used in post production. This is necessary because every TV is setup slight differently, Panasonic says, and that means the images we see on screen don't truly reflect what a film's director or colourist would have seen in the studio.
Filmmaker Mode is essentially just a new default setting that disables high contrast ratio settings that don't reflect the creator's original intent. It also ensures content is shown at the correct aspect ratio and frame rate. It also removes settings such as motion smoothing, which is a technology in many TVs that tries to smooth out fast action scenes.
"Panasonic strongly believes in delivering the creative intent as accurately as possible to our viewers," said company executive Yasushi Murayama in a statement. "Accordingly, we were happy to support and lend our weight to this initiative – we believe that is important, especially with so many prominent filmmakers also behind it." More
By
Mike Wheatley
https://www.hdtvtest.co.uk